New Trier

High School




Class Of 1963
New Trier High School Class Of 1963 50th High school Reunion took place during the weekend of
October 18th-20th, 2013.
Welcome to the New Trier Class of 1963 50th Reunion web site.
Here you can:
· Look for your classmates and see what they have been up to.
· Create your own profile so others can see what you have been doing since 1963.
· Post photos and see what pictures other classmates have shared.
In addition, if you are in touch with fellow New Trier Graduates, please let them know about the website and encourage them to sign up. .
We will be updating this website from time to time and keeping it running indefinitely, so everyone can continue to keep in contact with one another. If there is anything additional you would like to see on it, please email Sue Giallombardo Walker at suewalker4@yahoo.com
Below is the Group 1 Class photo taken at the Reunion.
You can also see it by clicking on the this Class Photo link .
If you would like to order a copy, call Tom Killoran at the number below or email him at tomkilloranphotography@yahoo.com
(708) 361-0025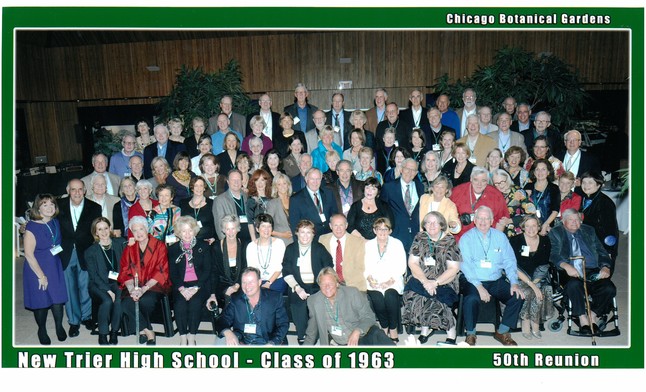 Classmates have posted photos from the reunion. These can be seen in the Gallery- reunion photos link on the left hand side.
Enjoy the site and please let us know if you have any comments or suggestions.
http://www.newtrier1963.com/class_reunion.cfm?ReunionID=12876
New Trier 1963 50th Reunion Committee:
Wendy Browder
TJ Dunn
Lynn Edmonds Epstein
Sheilah Rae Bernstein Gross
Fred James
Tom Safran
Carol Klein Borden
John Simpson
Pete Voysey
Sue Giallombardo Walker
---
---
If you have pictures from any of these events, please upload them to the website. Or you can always email them to Sue G Walker(suewalker4@yahoo.com ) and she'll add them for you.
---

New Trier Fight Song #1
Here's to our team, we're the Green and the Gray.
Here's to our old New Trier.
Long may her name be cherished for her fame
Loyal and ever true, whatever she may do.
Fighting to win is the Green and the Gray.
And may she never fail.
Proudly wave the banner for our school,
Rah, Rah for old New Trier.
Dum, da, dum, da da dah – Yea New Trier (let's fight!)
Dum, da, dum, da da dah – Yea New Trier (let's fight!)
Rah, Rah, Rah, Team (let's fight!)
Rah, Rah, Rah, Team (let's fight!)
Rah, Rah, Rah, Team, Let's fight, fight!
(back to beginning)
New Trier Fight Song #2
We are the team that will win,
We are the team from old New Trier.
Above the tumult and din, we hear a loud defiant cheer (Rah, Rah)!
So let the foe-men beware, when 'ere they hear our battle roar.
For the "oskee-wow-wow*" New Trier,

Means that the Gray–Green wins once more!


"Oskee-Wow-Wow" is a University of Illinois fight song written in 1911.
Does anyone know how it made it's way into NT's #2 fight song??
ANNOUNCEMENTS
Karen never signed up to our 1963 reunion site, even though I alerted her to it before last year's reunion. Just recently I asked her if it's OK to share her latest news with the group and she said yes. When you see what she's been up to, you will understand her preoccupation with her current theater work. If any of you are in the NYC area, there are just a few more days, this weekend only, to see her current work, "Extreme Whether", which deals with the climate crisis.
Karen is not enough of a self-promoter to send this to the group herself. She's still that same wonderful, deep person she was back at NT. I'm sure many of you have good memories of Karen and her brother John.

OK. I've just gone to a recent announcement that came via Indiegogo and copied it here:

For Ticket Reservations Call: 212-254-1109 or Purchase tickets here: http://www.smarttix.com/show.aspx?showcode=EXT1

"And this is what theater is meant to be -- a tool for gathering and disseminating ideas, even activating new ones." Keith Paul Medelis, Theater Is Easy

"What a Terrific play. Such Great characters," Robert Roth, poet

"Wow! Echoes of The Cherry Orchard and Rebecca West and Margaret Atwood and Antony. A balm and wakeup call at once." Christen Clifford, performance artist, author

"It's all here in this complex, magical play, where the personal is indeed political." Pam McAllister, author
Sent by Classmate Timothea Pappas