In Memory
John (Jack) Ryan
I received word from classmate Jock Simpson of the passing of his dear friend and our classmate Jack Ryan on Friday, March 10. Here is the obituary from the Lawrence, Kansas paper. Jack and his wife Nancy Nolan Ryan were living in Tonganoxie, Kansas., near Lawrence.
Jack Ryan October 23, 1945 - March 10, 2017
Jack Ryan, 71, Tonganoxie, Kansas passed away Friday, March 10 at Lawrence Memorial Hospital. A memorial gathering will be 6-8pm Tuesday, March 14 at the Quisenberry Funeral Home, Tonganoxie. Private burial will be in Maple Grove Cemetery, Tonganoxie.
Jack was born in Paterson, NJ, the son of John P. and Mari (Wickstead) Ryan. He served in the U.S. Army and worked as a stock broker. He was united in marriage on January 25, 1969 in Northfield, IL to Nancy Nolan. In addition to his wife, Nancy, he is surviced by their two sons, Jay Ryan, Evanston, IL, Mike Ryan, Tonganoxie; one daughter, Sally Gibson Ryan, Tonganoxie; one sister, Mari Dysart, Glenview, IL. and 5 grandchildren.
I pulled these pictures from Jack's facebook page one recent and one from a few years ago...
In reading back over our various messages on facebook, I knew that Jack felt he was blessed with a great family. He was a happy man.. My sympathies to all his friends and family. You will be missed, Jack..
Sue Giallombardo Walker
Jack and Nancy Ryan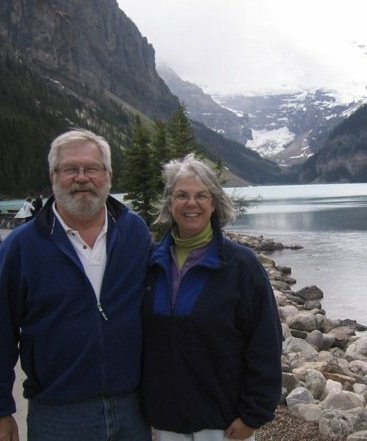 A few years back....