In Memory
Tommy Lee Phillips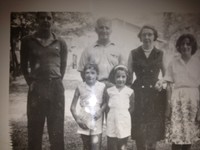 Tom Phillips passed away in 1993 of esophageal cancer at the age of 49. Adventure, golf & the outdoors were his passion. After serving 3 years in the Army with a tour of Vietnam he completed his MBA at Univ. of Illinois.

He was an excellent horseman and bred his prize quarter horse to foal a World Champion Barrel racer in the 60's.

His interest in foreign cultures led him to travel extensively and his love of golf landed him a job managing a course in Turkey for the US Government for several years.

He was 8 years older and I didn't see him much after he graduated NTE but I will always remember his sense of humor, teaching me to play chess well enough so I could finally beat him, and for giving me rides in that old Model A Ford he had in high school. Thank you big brother for the memories - you are dearly missed!
Susan Phillips of Naples, FL
New Trier Class of 1971