In Memory
Anne Murray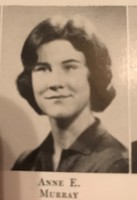 Allan Stern sent a message regarding the death of classmate Anne Murray on Jan. 2, 2018 She had a major stroke on December 22 and never regain consciousness. Her two children and her brother were with her when she passed away in Denver, Colorado.
Anne was News Editor of the New Trier News and was a recipient of a National Merit Letter of Commendation.
If there is any additional information, I will post it here. Our condolences to her family.
Sue Giallombardo Walker