In Memory
Robert Arons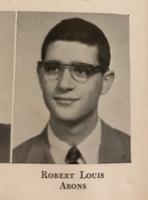 Robert "Bob" Louis Arons, age 73, passed away Saturday, August 25, 2018 in Buffalo Grove, Illinois.
He was the beloved husband of Lynne, nee Jacobson, cherished father Nathaniel Louis Arons, devoted son of the late Norman and Bernice Arons, brother of Richard Arons, dear brother-in-law of Gayle and Larry Perlman, Donna and Sheldon Gilbert and Harriet Arons, dear son-in-law of Annabelle and Gabriel Jacobson, fond uncle of Garret and Andrew Arons, Josh and Nyssa Perlman, and Alex and Carley Gilbert. An avid jazz pianist and composer, Bob loved to compose Jewish gospel music.
His New Trier classmates may remember Bob's amazing musical talents as he was in Senior Boys Ensemble and served on the Lagnaippe Board.
Funeral was Tuesday August 28 at Shir Hadash Synagogue, 200 W. Dundee Rd. Wheeling, IL 60090. Interment Willow Lawn Cemetery-Vernon Hills. In lieu of flowers contributions in Robert's name to Shir Hadash Synagogue would be appreciated. Info-Mitzvah Memorial Funerals, 630-MITZVAH (630-648-9824) http://www.mitzvahfunerals.com
Thanks to Fred James and Sheilah Bernstein Gross for sending me a notice of Bob's passing.
Sue Giallombardo Walker
https://memorials.mitzvahfunerals.com/robert-arons/3595600/service-details.php