Special Recognition
Special Recognition to Classmate Sheilah Rae Bernstein Gross
New York Theatre Barn Honors Sheilah Rae with a Lifetime Achievement Award 2019.

https://www.broadwayworld.com/article/New-York-Theatre-Barn-Honors-Sheilah-Rae-With-A-Lifetime-Achievement-Award-20190208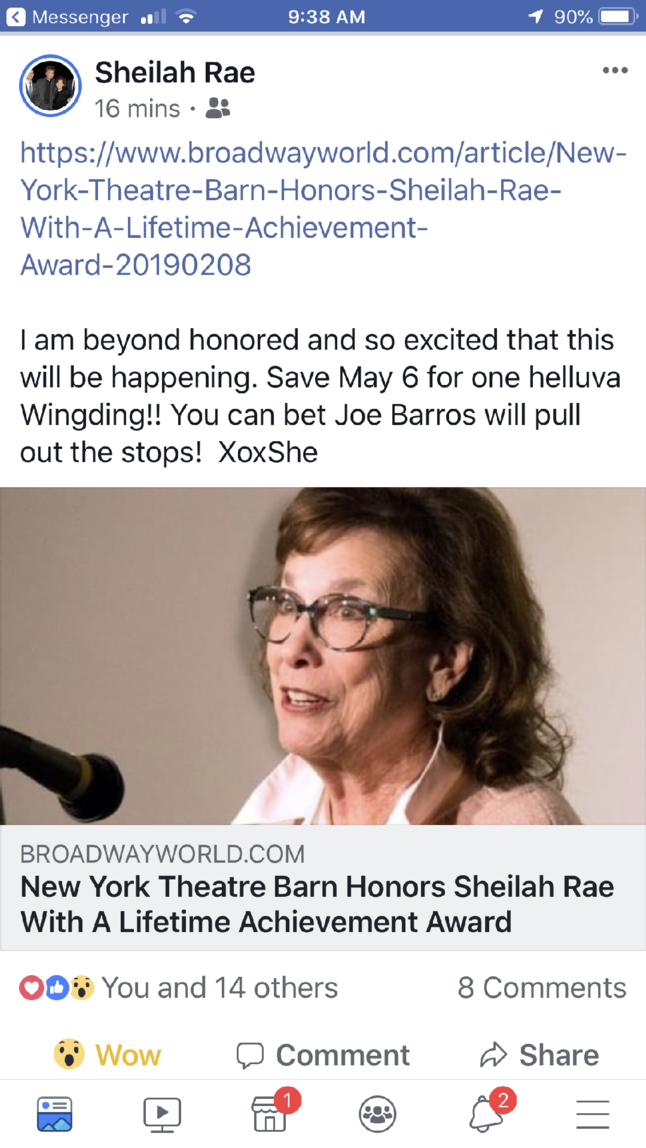 I
Special Recognition to Classmate Don Behm
Don was recently elected to the Michigan State University Hall of Fame
Below is a link to the video shown at his induction ceremony followed by his acceptance speech.
CONGRATULATIONS DON!!!
https://www.youtube.com/watch?v=qDv-hgRIktI
****************************************************************************************************************************
Special Recognition to Classmate Ray Kaup
Ray was recognized as a Life Member of the
National Association of Letter Carriers
He was honored for his 50 years of membership!
Congratulations, Ray!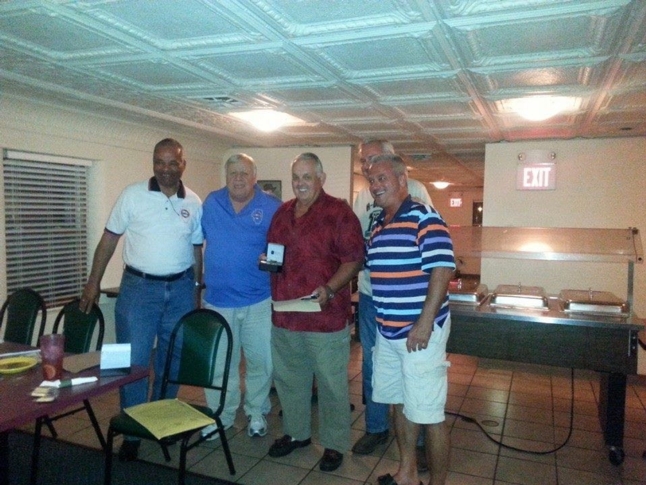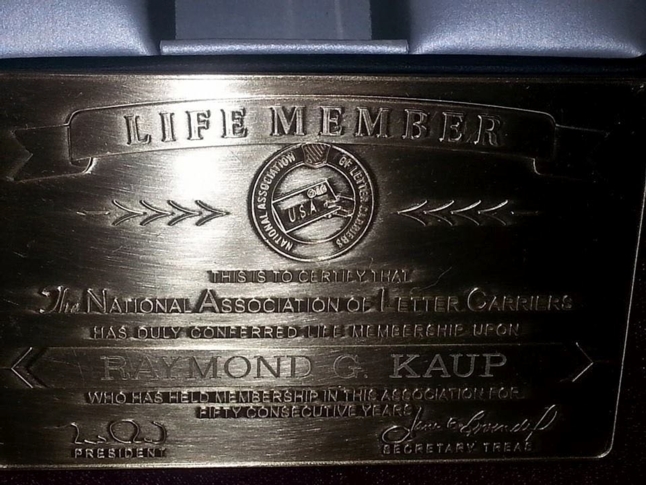 *******************************************************************************************************************

Here's the link to the video of the presentation
Thanks to classmate Allan Stern for forwarding the video link.
Classmate Dr. Mary-Claire King was recently presented with the National Medal of Science.
Very proud of you, Mary-Claire!!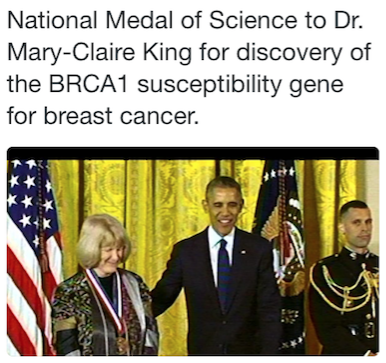 Thanks to Mindy Nix for sharing this so we could post.
*****************************************************************************************************************
Sheilah Rae wrote and composed a song
for the Class of '63, New Trier High School.

THE CLASS OF SIXTY-THREE©
WORDS AND MUSIC BY SHEILAH RAE
Read the lyrics and sing along! Who cares who's listening and thinks you've lost your mind?!
HEY, I REMEMBER YOU.
I RECOGNIZE YOUR SMILE.
NONE OF US REALLY LOOK THE SAME
YET YOU HELD ON TO THAT STYLE.
BUT GEE, IT'S NICE TO HEAR THAT
YOU STILL REMEMBER ME
AFTER ALL THIS TIME
AND ALL THESE YEARS
FROM THE CLASS OF SIXTY THREE.

WELL NOW, ISN'T THAT THE GIRL THAT WAS
YOUR GRADUATION DATE?
THERE'S THAT GUY I HEARD WHO HIT IT
BIG IN REAL ESTATE.
THE LOVES, THE LAUGHS, THE LIFETIMES
STANDING HERE WITH ME
AFTER ALL THIS TIME
AND ALL THESE YEARS
FROM THE CLASS OF SIXTY THREE.

DID WE DO WHAT WE WANTED?
DID WE DO THE THINGS WE PLANNED?
OR GIVE UP ON THE DREAMS WE HAD BACK THEN?
THE YEARS, THEY MAY HAVE CHANGED US
MADE US HARD AND EVEN COLD.
IF WE HAD TO, WOULD WE DO IT ALL AGAIN?

THE TIME WE SPENT TOGETHER
THOSE YEARS IN SENIOR HIGH
IF I THINK BACK TO THAT CRAZY TIME
MY GOD, IT FLEW RIGHT BY.
IN FOUR SHORT YEARS THOSE FRIENDSHIPS
BECAME INGRAINED IN ME.
NOW RECONNECTING ONE BY ONE
RECOLLECTING ALL WE'VE DONE
SHARING SORROWS, JOYS AND HISTORY…
AFTER ALL THIS TIME
AND ALL THESE YEARS
WITH THE CLASS, THE CLASS OF SIXTY-THREE.
©Sheilah Rae. Vimax Music
Marie-Claire King has been selected for the 2013 New Trier Township High School Alumni Achievement Award for her work in human genetics research. See her information highlighted in red below.

The class of 1963 congratulates one of our own, Mary Claire, for this very special recognition..Some of you may remember she was one of our special alumni speakers at our 40th reunion.

Dear New Trier Alumni,
We have some exciting news to share. The 2013 recipients of our New Trier Township High School Alumni Achievement Awards have been chosen, and plans are in the works to honor them at a dinner at the Hilton Orrington Hotel in Evanston on March 14.
The 2013 honorees include our Classmate Mary-Claire King:
• Mary-Claire King, Class of 1963. King is a leading human geneticist whose accomplishments include identifying the BRCA1 gene that marks susceptibility to breast cancer. She also is credited with applying the use of genomic sequencing to identify victims of human rights abuses. King is a professor at the University of Washington and President of the American Society of Human Genetics
The 2013 honorees were chosen from a field of more than 130 nominations. A Selection Committee made of alumni, New Trier staff members, two current students, and representatives of the New Trier Educational Foundation met several times to choose the 2013 honorees. Committee members made their selections based not just on the honorees' career accomplishments, but also on their commitment to public service.
****************************************************************************************************Please let me know about your or other classmates' exceptional achievements so that I can post on this page. Thanks!! Sue Giallombardo Walker
Email: suegwalk289@gmail.com